High River and Vulcan Veterinary Protocol for COVID 19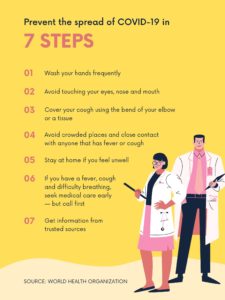 The health and safety of our clients and our staff remains a priority. Animal health is an essential service and we wish to continue to operate as effectively as possible for you and your pets during these challenging times while keeping everyone safe. These essential services include emergency surgeries and consults, the purchase of therapeutic pet food and prescriptions that are crucial in keeping our beloved furry family members healthy and safe.
At the same time, we understand our social responsibility to our clients, as well as the need to protect our Veterinary team.
With the onset and continuing spread of COVID-19, we are collectively – personally and professionally – taking ever-extreme measures in an attempt to combat and prevent the spread of this virus.
SOCIAL DISTANCING
I'm sure everyone at this point has become aware of Social Distancing #stopthespread. This is the practice of keeping a 2m (6 ft.) distance between one another. This is absolutely THE best method that everyone MUST practice (along with regular handwashing) to limit the spread of COVID-19.
We will be adapting to this new protocol by limiting clients/patients to one visit into the clinic at a time. Then a full clean of the exam room and reception area will be done prior to entry of the next client. This will include complete wash down with prevail/bleach of each area, including doors/knobs/debit machine….
All clients upon booking will be asked to wait in their vehicles and call when they arrive or to knock on the door to alert us, they have arrived if do not have a cell phone. Then once we are cleaned and ready Reception will wave them into their apt. room. Also, upon booking all clients will be asked if they are feeling ill/travelled or been in contact with an ill person, to rebook at a later date (3weeks). If the pet is ill and must be seen then they will need to arrange a healthy person to bring in for the appointment.
WHAT NEW CLINIC PROTOCOLS HAVE YOU IMPLEMENTED?
Increasing our already high standards of routine environmental cleaning*. All common surfaces are disinfected frequently. This includes door handles, countertops, payment terminals (between every transaction), telephones, reception desk and any other area that has seen contact between clients and staff. Between appointments, we have allocated time to clean and disinfect doors, chairs, dog scales and floors in the exam rooms.
Staff will continue to practice good hand hygiene
Hand Sanitizers will be at the front desk and encouraged to use upon entry and exit of clinic
Staff hours (and appointment scheduling) will remain the same for now but may change as the situation with the virus does within our community
We have posted a sign on our entrance advising our clients to remain outside and call the clinic upon arrival. Clients will also be asked about their recent travel history and current health status upon scheduling appointments.
Debit terminal payments – we wipe down the terminal between EVERY transaction.
Estimates will be emailed and gone over with an RVT over the phone with the client. As well Lab results will be gone over with clients via phone, to aid in social distancing.
Anything requiring a signature can be verbally communicated and recorded by a Veterinarian/RVT. If a pen is used must be disinfected.
Any Staff member ill or otherwise in need of self-isolation will not be coming to work.
TPP's will be signed by an RVT/Veterinarian ONLY upon pick up of script by owner (owners not to sign)
All surgery discharge, and other directions will be given over the phone
Additional procedures may be required, and we continue to explore all options available to keep the doors open.
HOW WILL MY PET'S APPOINTMENT BE AFFECTED?
We are booking all regular/routine appointments and surgeries at this time, as to ensure our clients and their pets receive the care they need.
Routine appointments include:
Annual exams and vaccines, and prescription refills
Elective surgeries (spays, neuters and dentals….)
Nail Trims
Any appointments that are currently scheduled will NOT be canceled unless when contacted, owner has been ill/traveling or would like to post-pone.
When scheduling appointments, we are obligated to ask our clients about their recent travel history, and if they are showing any signs of illness or symptoms of COVID-19.
Handling procedures during your pet's examination have/will be adjusted in order to comply with our social distancing procedures whenever possible.
CAN I STILL PURCHASE FOOD AND/OR MEDICATION REFILLS?
Absolutely, we are still open for those wishing to pick up food and medication at the clinic.
Reminder: Medication refills 24 hours notice to fill.
To date, our suppliers are still delivering, should circumstances change, we will communicate with all of our clients to keep them up-to-date on availability as needed.
What we do know about COVID 19 so far:
The virus can remain viable in aerosols up to 3 hours, plastic and stainless steel up to 18 hours.
Pets could be categorized as an environmental source. We should assume that the COVID 19 virus deposited on a pet's fur by an infected owner could survive – at minimum – for a few hours. Perhaps the best way to avoid this possible transmission source is to not cuddle, kiss, sneeze around, or even stroke someone else's pet.
Social distancing!
We're extremely thankful that our clients have been very patient and understanding with the new protocols we've put in place. Given the situation we're currently under, these necessary changes will help minimize disruption in our clinic routine, as long as everyone continues to work together.
We are attempting to do as many simple, practical and minimally disruptive measures as we can to reduce transmission risk.
In the event that this crisis escalates, we will not hesitate to add more preventative measures in an effort to keep our doors open and, more importantly, keep clients, pets and our team safe. Reasons for further controls include but no limited to supplies, staff (sickness or self-isolation) or intervention (Government/ABVMA) beyond the control of the clinic.
Be kind, check-in on friends, stay safe, keep your social distance and wash your hands!