Our Caring & Compassionate Team!
Meet the Veterinarians & Team of High River Veterinary Clinic in High River! We're pleased to provide exceptional vet care for your pets! Please call us at 403-652-7963 to speak to one of our caring veterinary staff members!
New Client Info
Our Services
Our veterinarian team in High River is looking forward to meeting you and your pets! Book an appointment today to see our professional team!
Request an Appointment
Dr. Geoffrey A. Cox
Born and raised in Ontario Canada where he lived until he moved out west to Edmonton Alberta. Dr. Cox was living in Edmonton Alberta for 15 years working in and around various veterinary hospitals as a veterinary assistant. After several attempts he was finally admitted to vet school where he was able to pursue his life long dream of becoming a veterinarian. Schooling and work took Dr. Cox all over North America from Iowa, to North Carolina, California and finally back to Southern Alberta where he now works in both the Vulcan Veterinary Hospital and High River Vet Clinic. He is a mixed animal practitioner that works with both large and small animals with a focus on animal health and wellbeing. For large animals he will work the gambit from cattle to sheep and goats and most species in-between. Small animal practice includes basic and emergency surgery, small animal internal medicine and general health and well being of patients. If you have any questions he is more than happy to answer and help your pets and your family feel welcome.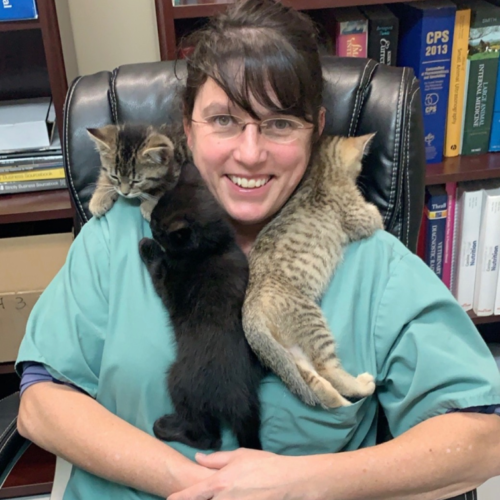 Ashley was born and raised in High River and has been an animal lover for as long as she can remember. Ashley has completed all of her volunteer and practicum hours with the High River Veterinary Clinic, and is now a full time Technologist with us. She has completed 3 courses with Olds College, the Veterinary Receptionist program, Veterinary Assistant program and most recently the Animal Health Technologist program. Ashley has been with our team as a Technologist for 7 years and has a passion for the care and well being of animals which has led her to wanting to become an RVT. She also has a special interest in small animal dentistry
She has a love for all animals big and small. Right now she has a dachshund named Lilly, a sheltie named Noah, two ginger female kitties (which aren't very common!) Ivy and Radish, and a male ginger kitty named Puff and 2 guinea pigs, Simon and Ridley. She loves to spend all her free time spoiling all her pets and relaxing in her home watching her favorite tv shows.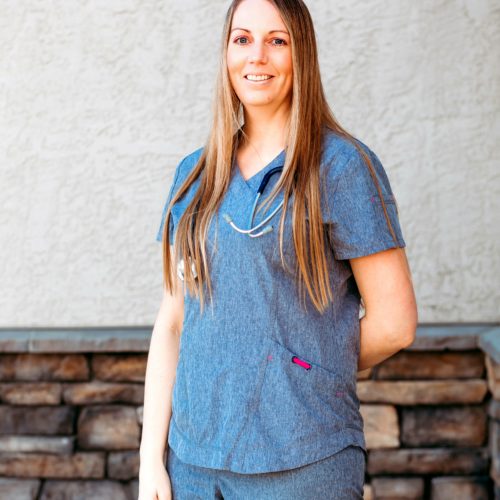 Stacey graduated from the Animal Health Technology Program at Olds College in 2004. After graduating she moved to Strathmore where she worked in a small animal practice for five years. Stacey joined our team in August 2009 and brought with her years of experience in small animal nursing care, laboratory skills and knowledge in animal nutrition. She is an RVT as well as Manager of both the High River and Vulcan Vet Clinics.
She lives with her family in the Blackie area along with their dogs Duke and Daisy, rabbits Cherry, Harriot, Hazel, and horse Jesse. When she is not at the clinics you will find her busy with her presidential duties for the Blackie Community association, completing tasks and organizing events for the Community. Her family is very busy and loves to camp and be with friends and family. Her 3 girls also keep her on her toes, with their busy dance schedules and competitions.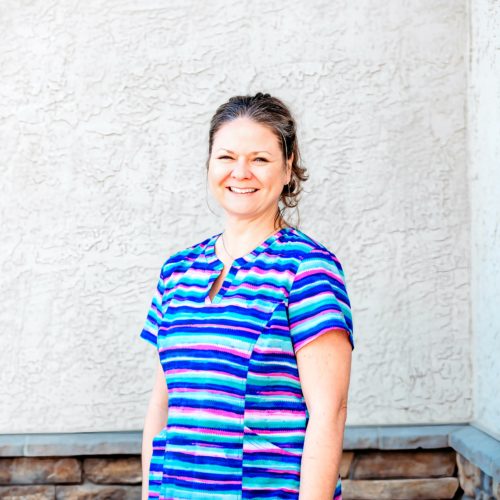 Bonnie comes from a small town in Northern British Columbia. She spent her childhood working in horse stables, working her way up to training people how to ride, taking overnight trail rides out to participating in gymkhana involving barrel racing and then onto jumping. Her dream as a young girl was to go to Veterinary school, as she loves animals, big and small. Her life took a different turn when she found herself in University taking business management and then completing her Health Care Aide.
She moved to Alberta in the year 2000, putting both degrees to work. Bonnie then found herself settling down to have her own family. She met her husband of High River in the year 2010. Finding herself learning about farmland. Still working with animals on the back of her mind the opportunity presented itself to work with High River Veterinary Clinic, joining the staff in the role of Receptionist in July of 2019.
Bonnie is a mother to three children, Nick, Holt, and Paisley. She is eager to learn what she needs to help our furry four-legged friends.
Morrisa joined the High River Veterinary Clinic in 2022 as one of our general receptionists. She is a born and raised Albertan who grew up in Edmonton and Calgary then moved to High River in 2005. She has always had a passion for animals and the medical field. In her spare time, she enjoys crafting, gardening and traveling. When she is not busy with one of her hobbies you will find her with her 2 dogs, Tucker and Millie, out for a walk around town.
Morrisa is a very friendly receptionist who warmly welcomes pet owners and animals with a big smile making you feel right at home! She is always there to lend a paw! She has a caring and helpful attitude towards both animals and their owners helping schedule appointment, answering questions, and ensuring a smooth experience for everyone.
Stephani was born in New Zealand and moved to Stavely at a young age. Stephani and her family lived and worked on a feedlot for 8 years before moving to Nanton. Stephani graduated from JT Foster High School in Nanton in 2014 and after high school Stephani attended SAIT for 2 years where she took hospitality management. This lead Stephani into catering with her Mum for 6 years, also running the kitchen at Stavely Auction Market. Unfortunately Covid changed plans and Stephani stepped away from the hospitality industry and joined the vet clinic in 2019. With this she continued helping her family with their own cow/calf and feedlot operation and now studying towards her veterinary technician degree. on her time off Stephani enjoys being on the farm raising her sheep and training her Huntaway dogs, Hollie and Stella.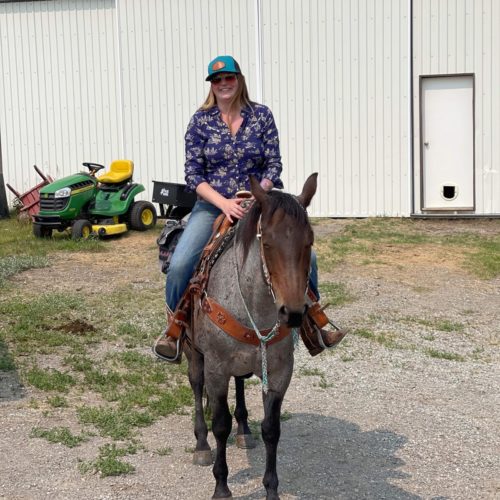 Kristy was born and raised in southern Alberta. She has enjoyed a love for animals all of her life.
She enjoys competing in rodeo events and Skijoring as well as spending time with her many animals on their acreage.
Kristy joined our team in 2023.